Captain
Posts: 361
Joined: Tue Nov 07, 2017 3:47 pm
Contact:
2021, switched from budgie to plasma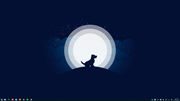 linux user # 527315
I never lose. Either I win, or I learn.
Please edit your original post title to include [SOLVED] - when your problem is solved!
and DO LOOK at those Unanswered Topics - - you may be able to answer some!.
---
Awesom WM
SDDM Greeter:
Alacritty terminal / tty-clock
Cmus w/Cava:
Wallpaper:
https://wallpaperaccess.com/red-forest
---
Captain
Posts: 4992
Joined: Tue Nov 07, 2017 3:45 pm
Location: Belgium
Contact:
nice
Learn, have fun and enjoy.
But first use the power of the Arch Wiki
use the tutorials on
https://www.youtube.com/erikdubois
then use the power of google
then use the power of our moderators.
---